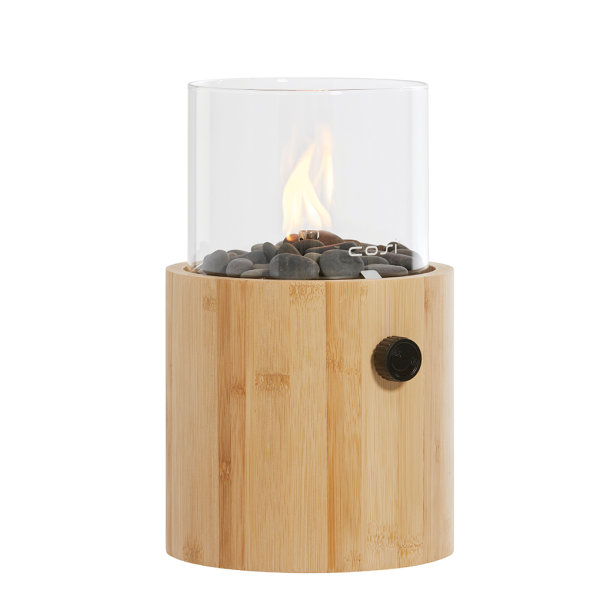 Cosiscoop Bamboo
Cosiscoop Bamboo
The Cosiscoop Bamboo is a gas lantern beautifully encased in bamboo. The Bamboo is a true eye-catcher and creates the ultimate atmosphere because of the bamboo, the stylish glass and the atmospheric flames.

The gas lantern is encased in bamboo, which adds a tropical and natural atmosphere to your garden. Cosiscoop gas lanterns create atmosphere and cosiness and extend your sultry summer evening. To maintain the bamboo in its beautiful shape, we advise you to use a bamboo protector to treat the bamboo from time to time. The Cosiscoop Bamboo is easy to use. Place a 190-grams gas cartridge at the bottom and light the Cosiscoop with a long lighter. You will then have an atmospheric flame for approximately 5-6 hours.

Do you want to switch it off in the meantime? No problem, the control knob makes it easy to extinguish the lantern, which can be ignited the next time with a long lighter.

All Cosiscoop gas lanterns operate on a universal 190-grams gas cartridge. Note that you always choose a gas cartridge that is equipped with a gas stop valve. If the gas lantern loses contact with the cartridge, the gas stop valve automatically does its job.

The Cosiscoop Bamboo is delivered including glass and pebbles. Universal 190-grams gas cartridges with safety valves are available at our Cosi partners, garden centres and DIY stores.
Conditions générales
Expédition pour produits en stock: 2-3 jours ouvrables