Cosi all weather protection cover Cosiscoop Pillar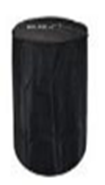 Cosi all weather protection cover Cosiscoop Pillar
Cosi all weather protection cover Cosiscoop Pillar - Black
Protect your Cosi fire table or pillar with a protective cover. The covers are made of PE fabric. Only cover the Cosi once the fire table has cooled off and when it is dry, to avoid moisture-related damage. Also remove stagnant rainwater from the cover and regularly aerate the fire table by removing the cover. Teak should not be covered continuously. That is why Cosi advises against using a protective cover for teak items.

This Cosi all weather protection cover is suitable for the Cosiscoop Pillar.
Terms and Conditions
Shipping for available items: 2-3 Business Days